As a kid I used to wait for Mondays. That's because my father used to come home with comics in his briefcase. Indrajal comics – The Phantom, Mandrake, Flash Gordan and Bahadur. Then there were Amar Chitra Katha – stories of history and mythology. Week after week, he fed our curiosity, our sense of adventure and our love for the genre.
It's a love that has abided.
The only time that i didn't read comics was the 10 years that i lived abroad as a student. I simply couldn't afford them …
But, back in India – as a working professional I indulged myself. Batman, Sandman, Hellblazer, Calvin & Hobbes, Allan Moore, – my bookshelves creak with these. Along the way I discovered Manga - and the God of Manga Osama Tezuka – if you haven't read his magnum opus Buddha.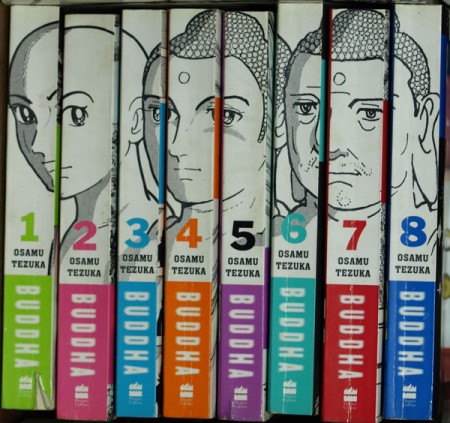 If you haven't read it – and you like the medium – do check it out… From the state of the novels, you can see they have been well read …
————————————-
I used to wonder, as a teenager,  why the superhero genre never took off in India. Why we never looked at masked men and women, travellers in space, visitors from outerspace, undersea adventures, mutants, space travellers, and the like. As I got more involved reading Hindu theology, theogony and mythology the answer was very evident.
How do you beat the Bramastra. What is stronger than the Bow of Shiv?Where can you get a more complex hero than Bhim or Karan. Where else can you tell the story of a land locked king – Arjun – fall in love with the princess of the netherworld – Ulupi … You have stories of a mountain being lifted on a little finger to protect a people from rain, you have stories of hills being carried across distance to help find the herb that restores life – sanjivini. You have stories of the king of  heaven hiding in the stalk of a lotus – in shame. You have tales of universes being created between Earth and Heavens to fulfill a promise (Vishwamitra to Trishanku)… how can any superhero top that.
___________________
Today i got my monthly order of books from Flipkart. Amongst the books is a comic – Ravanayan by Vijayendra Mohanty(aka @vimoh )  and Vivek Goel . The story of the epic from Ravaan's point of view.
Ravan has always been a fascinating character. Brave,  A conqueror – he conquers the heavens and gets Indra to accept defeat (there is a good reason his son is called Indrajit). A great devotee of Shankara – he is supposed to have lifted up the Kailas in anger because he thought the Lord was not paying attention to him. When Shiva stabilises the mountains with a press of a little toe – Ravan realises the power of Shiva. He is supposed to have gouged out the flesh of one of his hands (he had 20) to create the Rudra Veena and sing the Sama Veda (atleast that is the story I heard from my grandmother).
I enjoyed reading the first installment of Ravanayana – had goosepimples when Ratnakar – who later becomes Valmiki – encounters Ravan. Loved the interplay between the siblings.
It is great to see old (not so dear) characters in a new light … do check it out
you can buy Ravanayan here