i went to Damu Nagar yesterday. One of my team mates wanted me to document this. I haven't done this (documentation) since i took on my corporate role, and at a very basic level, i needed that reality check of being back to see ground level realities.
There are things that we know as broad level approximations – the price of privilege, i am guessing – and there is ground level reality. usually there is a wide chasm between the two.  Controlled interactions reveal less than organic ones.
As someone whose grounding is in the documentary form, factual narratives which are not in my voice, but the voice of the people i am shooting, i have learnt to go silent, use the camera as a barrier between the world and me, and i have learnt to observe. Talking is less important, questioning for expected answers is an exercise in futility , and therefore what is left is to observe. i have spent a day or two just rolling the camera in different places, absolutely sure that i will get unusable footage, because people tell you what you want to hear. The trick is to observe unseen. To shoot unseen. For, the camera rarely lies.You need to go beyond the obvious to pick that up.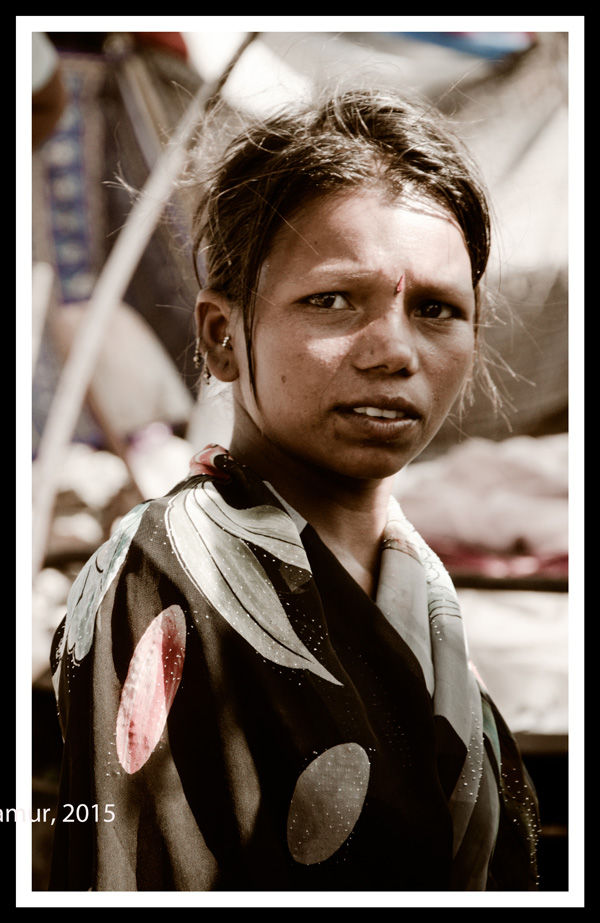 What you will see, whenever you to the site of a disaster is the seeming cheer. People trying to use an emotional defense mechanism to cope. It is when you see their eyes, you know the truth – and that truth is despair mixed with despondency. All those lofty things we discuss in the comfort of our air conditioned, and air purified drawing rooms, and offices have little or no bearing on the reality in these situations. Theoretical constructs are easy. Practical intervention is more long term.
And, the starting point is leaving behind all your preconceived notions, or even what your eyes see and your ears hear. Often, both are a product of your optimism. I have been doing this for a fairly long time, and one of the things i have learned not to do is self project my 'ideal' solutions – often brought about by complete lack of knowledge on the subject, on the situation. I used to do enough of this, and more — an eager beaver ready to solve all the problems of the world. And, then i realized how little i know. Sometimes the older me has a flashback of a younger me, and cringes in embarrassment. I have changed. I have no solutions. All i do, now, is document. The problem is vast. The solution is manifold and multilayered. And I accept, i don't know the answers. Forget the answers, i don't even know the questions.
As in most cases, the response of political parties and cultural organisations is more organised and more immediate than that of the administration. Some tarpaulins have arrived. Meals are regular. medicines have reached. Whatever is within the power of these players, is being done. But, long term rehabilitation is not under their control – it is between the municipality, the forest department and the state government. The Rs.3800 cheque offered as compensation is met with laughter. "hamare paas bank account bhi nahin hai, is cheque ka kya karoon' is a constant refrain.
the remains of the settlement, fire swept through the slums in Bhim Nagar, Damu Nagar. A gas cylinder exploded. then many more did. People ran through narrow, rocky, uneven pathways to higher ground. The fire consumed everything in it's path.
We have lost everything, says one woman. it is echoed many times over. Women huddle together with each other, trying to form a self support mechanism. I see drunk men. And, i use the term with no value judgement. This is their way of coping. one clasps my hand with both his – 'do something he says' … i can see the barely controlled tears in his eyes. he then proceeds to tell Deepak Lokhande his story. Sometimes, you just need someone to listen to you. i feel helpless, as i usually do in cases like this.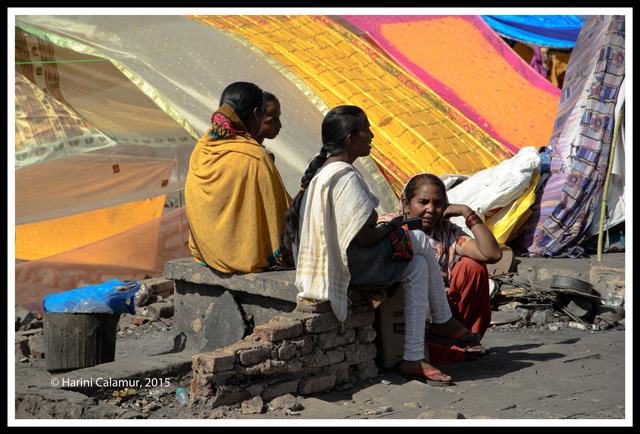 Damu Nagar – women waiting it out. Hoping tomorrow will be a better day. 
Different communities live in different part of the slum. I come across a woman. Are you Tamil, i ask. Telugu, she says. We talk for a bit – the story is the same. came from the villages with nothing. made something in mumbai. And lost everything in the fire. There is no way of estimating the loss. If someone told you 50k of savings, in cash, was burnt, would you believe it?
Is it pathos i hear? is it desperation ? is it disbelief? the starting point is that no one knows how they are going to build back their lives. Do i have the answer to it – i wish i did. I don't even know where to begin. Is this the government's fault for allowing a settlement to come up in no man's land? is it the resident's fault for daring to dream, escape to mumbai and build 100 square foot homes in no man's land? is it a tragedy waiting to happen and is it the price of development. All i know is one thing, and the only thing i have ever known – poverty and it's impact are truly secular.
There is more i will write. we are trying to do something. i am not sure if that something is right or correct. But, i  am not sure any of us can sit back and afford to wring our hands in helplessness. As, one of the residents put up this paper on a burnt out tree 'what do you want' .. i want a permanent home.