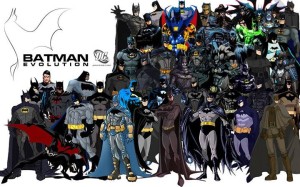 And here are some of my top stories/story arcs featuring the Bat
Batman Year 1 - Frank Miller – a no brainer really. It took Batman out of the daylight and placed him firmly back into the night.
Written by Frank Miller and illustrated by David Mazzucchelli – the comic series is set in an almost dystopian world. It is into this world that Bruce Wayne returns, from his travels, to start his mission against crime. The treatment – both in terms of writing and in terms of illustrations and inking is Noir. It is almost as though Phillip Marlowe stepped out of Chandler's world into the DC universe.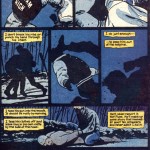 The story is told from two points of view – Bruce Wayne in his battle against crime as a vigilante – later to become Batman, and Jim Gordon as he tries to impose order in the city of Gotham – against all odds. The relentless voice over – both Bruce Wayne and Jim Gordon –  the world with no heroes, a world with shades of grey – tending to black not white, where the somewhat heroes compromise with their values to achieve their goals – it is amazing the dimensions Miller and Mazzuccheli achieved in print.The scene where Gordon waits for the corrupt cop,  Flass and then proceeds to take the law into his own hands to send out a message – that he can cross the line to keep his family safe – is quite poignant. Surprisingly, the year one animated adaptation made recently, is stripped of all these nuances.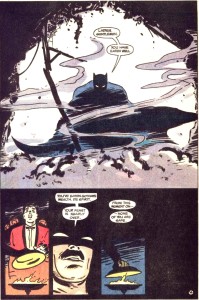 The comic is as much about Jim  Gordon's year one as it is Batman's year one. And as both men learn to cope with Gotham, crime and the cops – most of whom are bent beyond belief – they build a relationship that is as much of mutual convenience as it is of mutual respect. Christopher's Nolan Batman Trilogy – especially Batman Begins –  borrows a lot from the story line as well as the characterization – of not just Bruce Wayne and Jim Gordon, but the city of Gotham – warts and all. In fact, the scene where the Batman breaks through the glass roof to throw down the gauntlet – so as to speak – is right from the comic book.
The story telling is tight- the entire story is 4 30 page comics, the art outstanding – the coloring especially giving that sense of a world without light, a world that holds more shadows than brightness, and that brings out the moral ambiguity of the city. It is a world of thugs, pimps and whores – where the rich are rich because they are bent, and in turn the buy off everyone to keep quiet.
If you are a comic fan, this is a must buy for your collection. Avoid the video.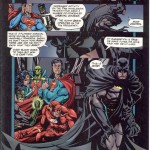 Grant Morrison had a great run on Batman in JLA – his Batman was less angst filled, less driven by survivor's guilt and more driven by
the fact that he was better than most (especially those with super powers) and therefore it was his duty to keep the world safe from idiots (especially those with super powers). This version of batman seems to be having more fun while being batman than other versions of him. Bat God rather than Batman. The Batman in this version is so brilliant, so ahead of the curve, that he can – and he does – take on God like entities and win.  Do check out the entire run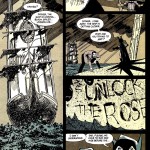 Before Grant Morrison wrote about BatGod, he had Batman encounter the Devil. Possibly the scariest, spookiest, scariest  comic book that i have ever read (no I don't read horror) – and didnt' know what this was about when i got it. Gothic - lives up to its name in more ways than one. The story is about a deal with the Devil from ages ago, the man who makes the deal with the devil, and the Batman. There is one particular scene when the young Bruce Wayne confronts the villain "whisper", in the teacher's study. Enough to keep you awake at night.
Once again, exceedingly tight story telling and a sense of menace that is pervasive. Do not read this on a dark and stormy night when you are alone at home.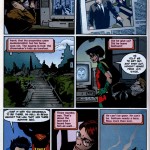 One of my all time favorite arcs was No Mans Land – that ran across the best part of a year across all the Bat titles. At the core of the series was a Gotham condemned by the US Government, and the people who are left behind. Bruce Wayne, leaves Gotham in light of the US Government decision, and the city is left to a beleaguered militia (there is no police force anymore) and various criminals who slug it out. In this scenario, someone picks up the bat symbol and begins bringing back hope to the people of Gotham. Some fantastic writing by different authors – some beautiful scenes and an ending that will stay with you for ever. like Year One, this is as much Gordon's story as it is Batman's. This is a must read series.
There are a whole bunch of others that are brilliant -
The Man who Laughs by Ed Brubacker and The Killing Joke by Alan Moore  both look at the Batman's (very complex) relationship with the Joker.
The Loeb and Sale Trilogy – Long Haloween, Dark Victory and Haunted Knight- explore the facet of Batman that is often ignored – that of the Detective. These three, like year one, are firmly in the noir space. The stories also explore the Batman's growing attraction to Catwoman, and Bruce Waynes fascination with Selina Kyle.
I have been hearing great things about Scott Snyder's run on Batman, but i simply haven't had the time over the last two years to read (let alone read comics) – one of the things i hope to make time for in the year(s) to come. Maybe stuff i can read post retirement..  :D
Incidentally, i was introduced to the character of Batman by my maternal grandmother – when i was sub 10. she would tell me stories with batman as hero (authored by her) and which had a very desi context. This was before i ever read a comic or saw a batman film.