When I was growing up, I was often told, by my father's friends – India and Pakistan, we are brothers. we have the same language, culture, etc etc etc.  This was when we lived in Delhi. i later realised that the fact that the dominant culture in Delhi was Punjabi, and there was a yearning for the age gone by. As i grew older, and began understanding the concept of diversity, i began understanding only one thing – that while there are some Indians who are like the Pakistanis – primarily Sindhis and Punjabis – most of us are not.
As I got even older, i understood more. As a student in England, i had a Pakistani classmate, who was from Karachi. He told me that he was a Mohajir and that his family supported this party called MQM. That they were fighting for Mohajir rights. Mohajir was a term used to describe immigrants from India. And, i found that kind of odd- that Mohajirs would be discriminated against- given that Pakistan was set up as a Muslim homeland. Then came other surprises. This was an era before cell phones. Even land lines in India were sparse. And i would call up on a given day to India – to my dad's office to chat. or he would call me. All my classmates knew that habit. That day, dad's office was shut for Muharram . My Pakistani classmate did not know what Muharram was. I was kind of surprised, because he was a Muslim, and this was a Muslim religious day. Which is when I also figured that all Muslims do not live together in harmony. And, there are some countries in which Shias are discriminated against. From my Bangladeshi neighbours and classmates, i learned first hand accounts of the massacre in Dacca before the 1971 war. And it was based less on religion, and more on the ethnicity, linguistics, and just the desire to kill the 'other' – you can define 'other' whichever way you want, it is just someone who is not like you.
And, then the 1993 bomb blasts took place in India. Planned in Pakistan. Executed in Mumbai. The start of a long list of terror attacks, against civilians in India. It continues till today.\
The overlapping era, across the world, was the era of sanctions against South Africa for practising apartheid. The best cricket players, the best actors, the best rugby players, never played internationally because their government was bigoted, and their system perpetuated it. I never understood why Pakistan never faced sanctions. What it has done since inception has been on par with what Nazi Germany perpetuated. Yet, it got away free.
Pakistan has had some of the best publicity and public relations management in the history of nations.It got away, literally, with murder, rape and massacres. Even when it committed  genocide in East Pakistan, there were no sanctions. I have heard first hand accounts of the genocide, and, much of what we read  has been so sanitised, that people who speak about it come across as nutcases. The men who planned it, those who implemented it, walked away scot free. The actions against the Bengali speaking population of East Pakistan was just something that they got caught doing. There is a list of things that are so under the radar, they rarely get mentioned. Genocide against every conceivable minority possible – Shia Muslims, Ahmedias , Christians, Hindus, the Baloch People, Hazaras, just to mention a few. These are stories i routinely come across when i trawl the interwebs for reading. There are a lot more i never come across, because a) they aren't on the internet, b) they are on the internet but i don't read the language. Pakistan has gotten away with sheer murder, time and time again. And, the naive west, led by the USA, has fallen time and time again for a pack of lies, told by a bunch of sociopaths, who claim to be the last defence against Islamist terror. This is like the west paying the mother lode of terror to get it to fight terror.
I always wondered why South Africa faced sanctions, and Pakistan did not. As i got even older i got the answer to it. The Afrikaners, were terrible on television. They looked arrogant, didn't look terribly telegenic, spoke like Nazis, and came across as terribly racist. On the other hand, Pakistan had invested in people who are suave, sophisticated, look telegenic and sounded like they were possibly your best friends. If you take away all your biases against Pakistan, and listen to their generals and bureaucrats on television. If you heard them day after day, you will be convinced that they are the victims of circumstance. That India is the aggressor. That they are the last defence against terror. Someone as canny as Nixon was taken in by the sophistication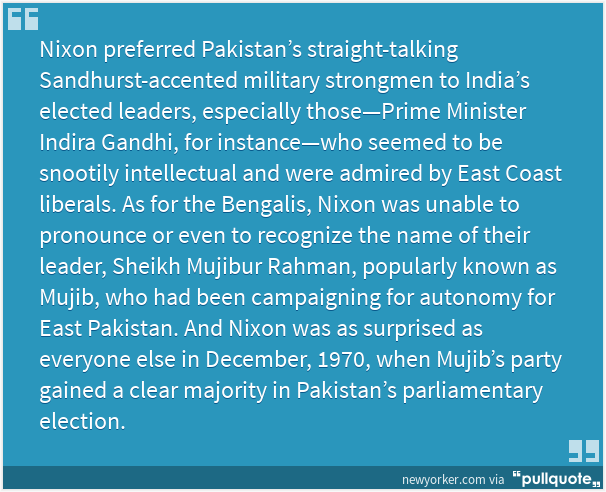 I have often written about why I never understood successive Governments of India falling for the Pakistani line of 'let us be friends' – maybe, as a woman i believe that before friendship, there needs to be trust. there needs to be that sense of security. And, i have often wondered, why we don't stop trading, transacting, communicating. The nostalgia of one Indian state, cannot become the cross for the rest of India to bear.
Last week, before the surgical strikes against terror camps on the other side of the LoC (btw – India did not violate Pakistan's territorial rights, it walked into a part of India illegally occupied by Pakistan) , and after the Uri attacks, there was this entire clamour about banning Pakistani actors on film. I have no views on this, except that why would you hire outsiders, to do jobs that locals can do. But, Bollywood has always been kind of woolly headed about Pakistan. It stems from the fact that too many people from Bollywood come from Punjab. And most Punjabis are, understandably, nostalgic about undivided Punjab. As a south indian brought up in Maharashtra, this entire 'we are one people' 'we have the same language and culture and food' never made sense, because we didn't. But, this is less about the myopia and nostalgia of Bollywood, and more about the fact that on a daily basis, representatives of the Pakistani establishment are entering your homes, via your TV sets, to give you their side of the story. I ran a poll on this, on twitter, to gauge the response of others. A
Should Former Pak Bureaucrats, Diplomats, Armed Forces, Politicians PM's be on Indian news channels putting across a Pak PoV? #poll #RT

— Harini Calamur (@calamur) September 28, 2016
Frankly, i am less bothered about actors, than i am by the Pakistani establishment. I also, do not expect actors, and cricketers, and other Pakistani civilians working in India, or for Indian companies, to take a stand against their government for one simple reason. This is a government without conscience. All those links that i have provided above, tells you the ruthlessness with which they kill the 'other'. If i were from such a state, i would be terrified of the repercussions on my family and friends. On my loved ones. The state of Pakistan is capable of just about anything.  I will leave you with the death of the qawaal Ajmad Sabri. He was killed for being a Sufi. Because being sufi is considered blasphemy. And, the government marked him for death by pinning the blasphemy label on him.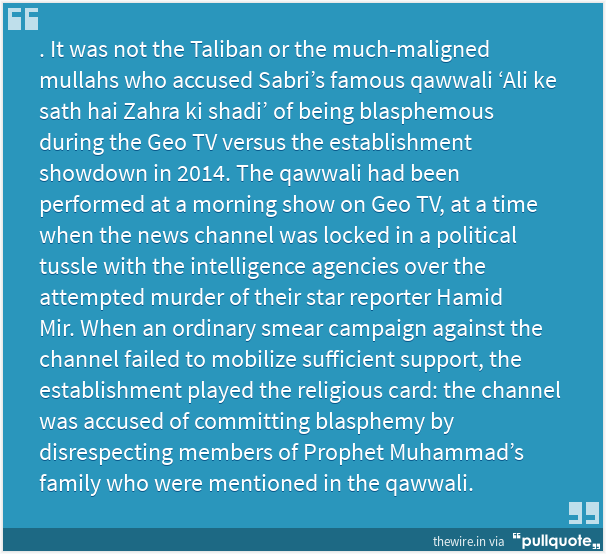 While i understand the anger that we all have against Pakistani infiltration, it's support of terror and the way it lies, i also understand that India is dealing with a Pakistani system where no one is in control. Not the Government, not the Military, not the terrorists. The competition to take control, is what is spilling over to the rest of the world. While the rest of the civilised world competes on achievements, this lot competes on bloodshed. I wouldn't expect the Pakistani actors in India to speak out against the terror attacks in Uri, they are probably too terrified. If i were in their place, i would be terrified too.  What i do expect, however, is for Indian channels to stop getting Pakistani establishment on TV news shows to defend Pakistan. I was appalled to see a tweet from a leading news anchor about the presence of General Musharraf on their channel. All I could think of was the Batra family. Musharraf has been leading the charge against India since the time he duped the then PM Vajpayee, and betrayed the concept of friendship and peace. Remember Kargil?
In human relationships as with States, some things stay common – without trust and respect, there can be no friendship. no love. there may be lust, but that is temporary. There could be memories, but those are yesterday. the question is always about today – do we trust them ? do we respect them? Have we done all that we can for either — In my opinion, we have. It hasn't worked. Now it is time to move on. It is time to shred the nostalgia. the fact that a few of us have family memories of Lahore and Karachi. That we have memories of food, and festivals. It is completely ok, to forget the past, rinse it out of memories, and move on.  It is ok not to have any relations with Pakistan – not as friends, not as enemies. we can't change our neighbourhood, nor get our neighbour to move. But, we can learn not to want being liked by them.