There is a humanitarian crisis unfolding in front of our eyes, and yet despite story after story that hits our screens, there seems to be nothing that seems to be abating the anguish and heartbreak of those walking home from the cities they helped build and run.
At the core of this disaster is the 4-hour lockdown, which didn't give time for people to collect their wages, and maybe even plan to return home at a time when transportation was available. It didn't allow the administration to prepare. It didn't give state governments time to set up hostels, or camps for people who would have gone from aspiring lower middle class, to poverty-stricken. It was, like demonetization, a diktat to be followed, and packaged and sold as though it was in the interest of all.
It wasn't. Like during demonetisation, it impacted the most vulnerable. Those who did not have the protection of wage security. Those, who were at the mercy of employers with a feudal mindset – who believe that the poor are here to serve them, without complaining, without questioning, and preferably without wages.
The mark of a civilised country isn't its arsenals, or its shiny buildings – it empathy towards the most vulnerable. Be it demonetisation, or the lock down, the brunt has been borne by those who eked out a living, hoping for a better tomorrow. And, the state failed them.
As business shut down across major cities, delivery boys, construction site workers – both men and women, repairmen, those who worked in shops and markets, maids, cooks, cleaners, housekeeping personnel, beauticians, gym instructors, lift men, and many, many more professions came grinding to a halt. People were turned out without a day's notice. A lockdown towards the end of the month meant most people who had jobs with monthly wages – drivers, maids, cooks – also gym staff, parlour staff, shop assistants, – people who had moved from the labour to the service class – were out of money. The local pan walla told me this morning, as he sat on a stool outside his shuttered stop, "bahut nuksan huva'. There are people who have been beggared, and there are people who have fallen below being beggared – and these are the people who have tied up their meager possessions and are walking home.
A Crisis of Planning
The problem with this government is that it is great on slogans and on packaging, and terrible at planning and implementation. The simplest thing to have done was planned for the lockdown. But the state was so busy with the optics of the Trump visit, the Shaheen Baug protests, and the toppling of the MP government, that the governance that they had been elected for took a back seat.
It would have been simple to have a countdown to the lockdown as done by nations that care about the people who inhabit their boundaries – citizens and migrant workers. Time to plan, time to move, time to build structures and systems for welfare. But a grand announcement of a lockdown makes for better optics than the announcement of a plan.
But, it was not to be. The utter callousness of the central and state governments towards the poor in general, and migrant populations in particular is horrific. And this injustice meted out is going to haunt us for years to come
The Need for a Direct Transfer of Cash
Right now, from the perspective of human life, there is a disaster in the making. As thousands of people from the rest of India make their way slowly towards UP, Bihar, Jharkhand and other states which are unable to fulfill the aspirations of their people through jobs and a promise of a better tomorrow. From the point of view of economics, it is a even bigger disaster. Demand from approximately 400 million people choked because they have no money. According to the International Labour Organisation
the number of workers in the informal economy affected by the lockdown and other containment measures is substantial (figure 3). In India, with a share of almost 90 per cent of people working in the informal economy, about 400 million workers in the informal economy are at risk of falling deeper into poverty during the crisis. Current lockdown measures in India, which are at the high end of the University of Oxford's COVID-19 Government Response Stringency Index, have impacted these workers significantly, forcing many of them to return to rural areas.

ILO Monitor: COVID-19 and the world of work.
The Government of India announced a Rs 500 transfer per month, for 3 months to all women who have a jan dhan account. In April, reports the ToI, about 20 crore women got the transfer. That still leaves about 80 crore people at the mercy of others. The cash transfer was accompanied by 5 kilos of wheat and 1 kilo of dal.
To put both the people and the economy back on its feet, urgently, there is only one thing to do. Boost demand. And, demand only gets boosted when people consume, and people only consume when they have money. Right now there doesn't even seem to be enough money for essentials. And, this is where there has been a complete lack of empathy from the state. We have money to build statues and build vistas. But, not money to put into the hands of those who need it the most.
Stimulating Demand
Former RBI chief, Raghuram Rajan believes that for the next 3-4 months about Rs.65,000 crores are needed to keep the poor from becoming poorer and hungrier
We have different ways of accessing through widow pensions, MGNREGA rolls. And we need to say that look these are people who don't have a job, who don't have a livelihood and for the next 3-4 months while the uncertainty is on, we are going to support them. But in terms of priority, keeping people alive and keeping them from going onto the street protesting or going out looking for work during lockdown is probably useful at the time of lockdown.We need to find ways of getting both money as well as food through PDS to as many of these people as we can.

Full transcript: Dr Raghuram Rajan in conversation with Rahul Gandhi
About Rs.5000 a month per family, and possibly 10 kilos of rice/wheat and 2 kilos of dal per person/per family will stave out the descent into poverty, hunger and despair. The Government has to take the bull by the horns and pay this money. This is needed now, to build for tomorrow.
For many who know, the magic figure is Rs.7000 per month per household/migrant labour. Azim Premji says, what is needed is:
Emergency cash relief of Rs. 7,000 per month for at least three months (without biometric authentication) to each poor household/migrant worker. Minimum wages for 25 days per month should be released to all poor urban residents for the period of the lockdown and at least for two months month following the end of the lockdown.

Azim Premji: The interests of workers, businesses are deeply aligned, especially in these times of crisis
Much of what has been announced by the Government fixes the supply side, but it is not enough to boost demand. That will only happen with an urgent transfer of cash into the accounts of those who have a Jan Dhan account, and into the hands of those who don't.
And, at the core of this is seeing how 400 million migrant workers and the 400 million above them, can keep afloat in these troubled times. Anything less is a betrayal of the people of India.
Trampling of Labour Rights
While the migrants walk home and hope to eke out a living there – governments of the BJP states have begun dismantling labour protection. India's labour laws were always terribly convoluted, and needed reform to make Indian industry more competitive. But, the abrogation of labour rights is not the way to achieve that. 12 hour days will become the norm, and jobs will not be protected, nor will be wages, wage parity, or even the right to protest. It is almost like we are going back to an era of bonded labour – the only thing remaining is to hand the foreman a whip, and ask him to whip the workers into shape. 
All this is being packaged as a vibrant new India. It isn't. It is a return to the bad old days of owners of companies and mines behaving like overlords. It is taking the poor and exploiting them further. It is the breakdown of the spirit of justice, and the desire to break the worker till they have no other option. Today, Azim Premji spoke out, one of the few industrialists who has not just put their money where their mouth is, but also someone who shows empathy. 
He said
It was shocking to hear that various state governments, encouraged by businesses, are considering (or have already done so) suspending many of the labour laws that protect workers. This includes laws related to settling industrial disputes, occupational safety, health and working conditions of workers, and those related to minimum wages, trade unions, contract workers, and migrant labourers.

Azim Premji: The interests of workers, businesses are deeply aligned, especially in these times of crisis
But the dominant narrative is that unions block development, and that unions have been to be broken to reach China like growth rates. But, the truth is that in most industries unions have been broken for ever. Most workers are contract workers, with little or no protection from the whims and fancies of those who want to exploit them.
All my working life I have dealt with labour unions and labour laws. It is not as though over these past fifty years I haven't dealt with draconian laws and unreasonable trade unions. But over the past few decades labour laws have changed such that they are hardly among industry's top constraints. At the same time, social security measures have not increased, thus worsening the precarity of the employed. Diluting these already lax laws will not boost economic activity, it will only exacerbate the conditions of low wage earners and the poor.

Azim Premji: The interests of workers, businesses are deeply aligned, especially in these times of crisis

The Time to Talk Universal Basic Income
Until now, this has been a Utopian concept, but now it is needed to prevent us from plunging into dystopia. It is needed and needed now. You see this need across the world, as the old ways crumble to make way for the new. I have written about UBI quite a bit, here
In the Economic Survey 2016-17, published by the Narendra Modi Government, this is what was said about UBI
Universal Basic Income promotes many of the basic values of a society which respects all individuals as free and equal. It promotes liberty because it is anti-paternalistic, opens up the possibility of flexibility in labour markets. It promotes equality by reducing poverty. It promotes efficiency by reducing waste in government transfers. And it could, under some circumstances, even promote greater productivity. It is not an accident that
Universal Basic Income has been embraced both by thinkers of the Left and of the Right.

Universal Basic Income: A Conversation With and Within the Mahatma
From the opposition, Rahul Gandhi and the Congress have been talking about a Universal Basic Income scheme since before the last elections. It is not just limited to the BJP and the INC, people like Bill Gates, monetarist economists like Milton Friedman, Barack Obama, and a host of others beleive its time has come.
If there is a will, there is money. There is 20,000 crores allocated to the rebuilding of the Government vista in Delhi. They found money for building the Sardar Patel statue in Gujarat, about Rs. 3000 crore. The only question is whether they will find the compassion and the empathy to find the money for this.
Maybe the Government needs to introspect, and think about why it was elected – it was elected to govern, administer, and allow people the space to reach their aspirations.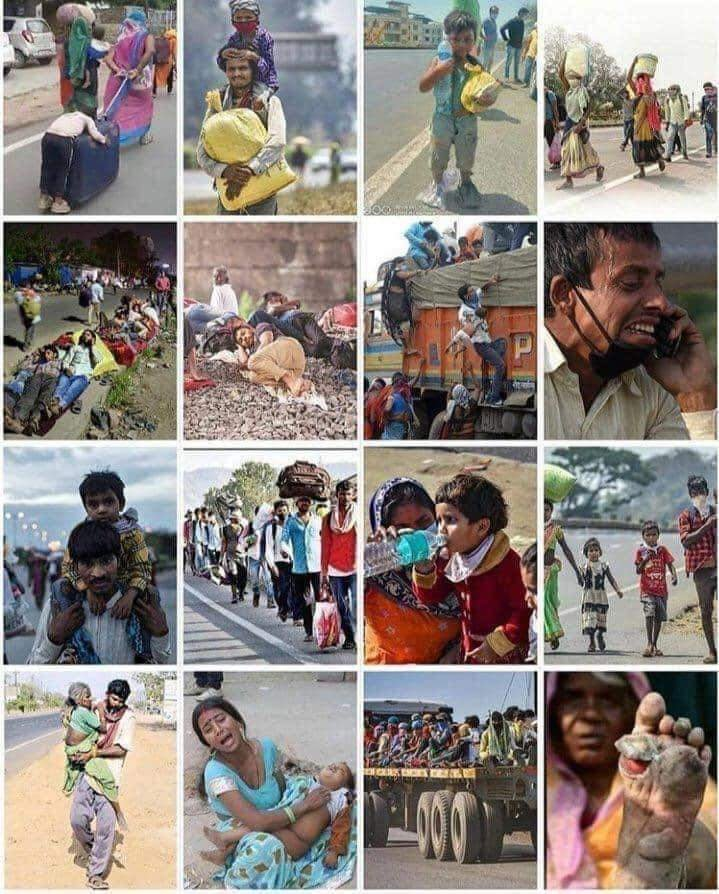 Right now, as pictures and videos stream out on the crisis faced by migrants, only the most stone like heart will not react. Something substantial has to be done. Something that will make a difference to the lives of the migrants, and the nation as a whole. That something is the Universal Basic Income. Bite the bullet, and implement it. Future generations will thank the government for it.